Learn how to prepare this delicious recipe to make the little ones fall in love. Prawn carpaccio pizza is a recipe from Nandu Jubany.
Educate the palate
Seafood, for the elderly, a delicacy from the sea, a much appreciated jewel. For children it is a strange food that may not fit into their most basic gastronomic schemes. That is why the work of parents is very important.
Through the gastronomic education that parents give their children, they are able to appreciate different flavors.
The flavor of the prawns makes it much easier for the little one to accept shellfish as part of their diet. Its mild flavor makes it much easier for him / her to assimilate.
Another way to prepare pizza
We all know. What all children really like are pizzas and hamburgers. This that so many times is presented in front of us as junk food has many ways to prepare. The prawn carpaccio is a very way to prepare a very rich pizza and with a great marketing for children.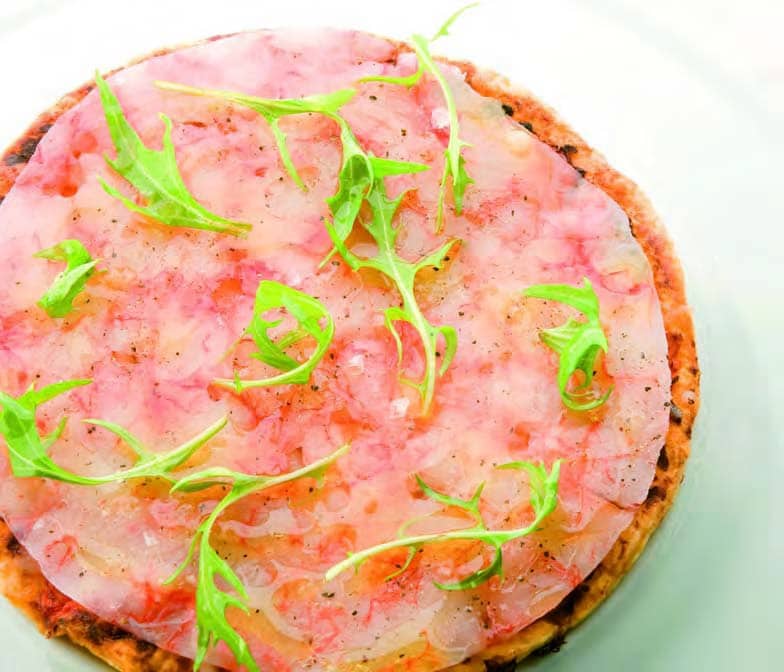 What is carpaccio
Carpaccio is a way of eating raw and finely cut meat. However, this is the way to eat much of the seafood. Although we do not take it completely raw and it can be cooked (which avoids possible diseases) the way of taking it in sheets and from cold causes the style of carpaccio to be acquired.
Ingredients
Elaboración
For this recipe we will have to crush the prawns so it is important to peel and clean them well.
Separate into 5 groups of 4 or vice versa. Then put in plastic bags to crush well with a rolling pin until they have the circular shape we want.
Then store the carpaccios in the freezer until you finish the pizza.
It's time to start with the puff pastry pizza base. Stretch the plate and cut it into a circle about 15 cm in diameter. You can help yourself with a dessert plate to make better cuts.
Grate tomato on the base of the pizzas before putting it in the oven. You can also use tomato sauce.
With the oven at around 180 ºC. bake the pizzas for 30 minutes
When the puff pastry is completely done, add the mozzarella to the pizza until it melts.
Place each carpaccio on top of each pizza base and season.